Easing Lockdown :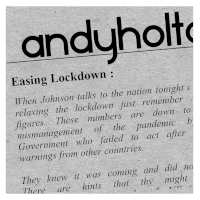 When Boris Johnson talks to the nation tonight about relaxing the lockdown just remember the figures below. These numbers are down to the mismanagement of the pandemic by a Government who failed to act after stark warnings from other countries.
They knew it was coming and did nothing. There are hints that they might start the quarantining of new arrivals to the UK, 66 days AFTER the first recorded death. Far too late as far as most people are concerned.
Active Cases : 183,329 : 2nd in the World : Highest in Europe
Total Deaths : 31,587 : 2nd in the World : Highest in Europe
Deaths per 1m pop : 465 : 5th in the World : 6th in Europe
Tests per 1m pop : 25,461 : 43rd in the World : 26th in Europe
03/05/2020 : PM admitted he had shaken the hands of everyone at a hospital where infected patients were being treated.
05/03/2020 : 1st Recorded Covid-19 death in UK
23/03/2020: Lockdown Announced : 359 Deaths Recorded
27/03/2020 : PM Test positive for Covid-19
05/04/2020 : PM admitted to hospital
30/04/2020 : Government announced 100,000 tests per day target was met. A claim that was later proved false.
10/05/2020 : 48 Days after lockdown 31,228 people have died during lockdown which averages out 650 deaths per DAY during lock down.
Appearing on the BBC's Andrew Marr Show, Communities Secretary Robert Jenrick said: "Stay alert will mean stay alert by staying home as much as possible*, but stay alert when you do go out by maintaining social distancing, washing your hands, respecting others in the workplace and the other settings that you'll go to.
Instead of managing the problem, it appears that they are only interested in slogans that don't actually mean anything.
Please remember that when the P.M talks about easing the lockdown restrictions that he is talking about England only. Devolved nations Scotland, Wales and Northern Ireland will set out their own plans.
Andy