A New Reality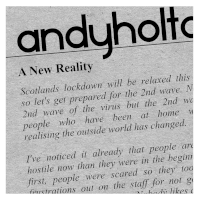 Scotlands lockdown will be relaxed this week so let's get prepared for a new wave of people coming back into society who have been at home without realising the outside world has changed.
I've noticed that people are already more hostile now than they were in the beginning. At first, people were scared so they took their frustrations out on the staff for not getting a coffee or whatever it was. Nobody likes change.
As the lockdown eases and the next phase begins with more people leaving home for the first time in 2 months, we are faced with people who are more stressed and frustrated as they return to a different reality, while hoping for normality.
The targetted frustration that shop workers now face while trying to protect themselves and others is even worse. It's understandable but not acceptable. People need to accept the changes that confront them and not take it out on those just doing their job.
People need to remember that after 2 months of abuse and daily changes to working practices that this time around, shop workers are mentally and physically drained and might not be as polite as they once might have been to people sneering and abusing them.
However, if you work in retail then you also have to remember that we have changed gradually with our environment, adapting slowly as the changes developed to where they are now. Those who are returning to work are seeing dramatic changes to life that never existed when they went into lockdown, so be patient while they adjust to what's going on.
In better times, It might have been easy to dismiss the odd customer who is rude or aggressive BUT these are not the best of times. We are exhausted. Not only have we missed out on families and friends but we have had to endure the derision of strangers just for doing our job. We have to accept treatment from strangers that we wouldn't accept from loved ones.
So if you are one of those returning to the outside world for the first time, think twice before sneering, arguing or complaining that you have to wait longer to get served etc
None of us like the current situation but we all have to live with the new rules. Retail workers don't need your stress, they have enough of their own. So if you want to be treated properly then think before you speak/act.
Being polite costs nothing and makes a huge difference to those working hard to keep you and themselves safe.
Andy